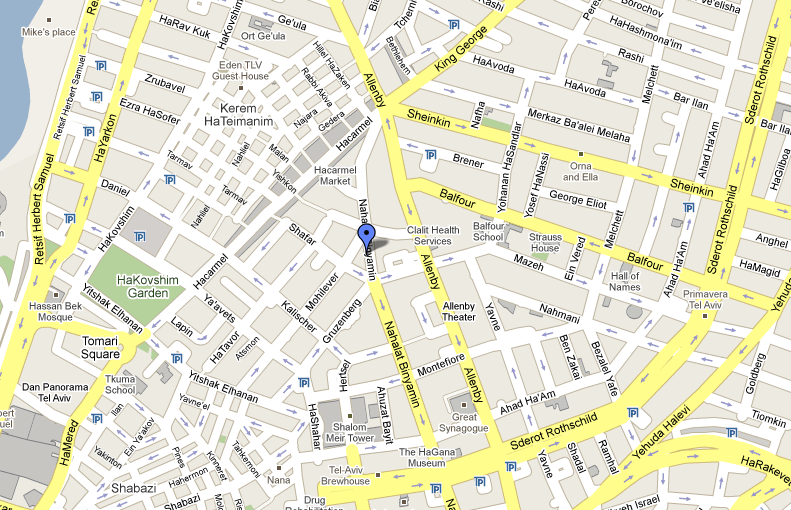 You are welcome to visit us
Every Tuesday & Friday
on the midrahov of Nachlat Binyamin,
from 10:00 to 18:00
the market opens in the center of Tel Aviv,
Our stand is located at Nachlat Binyamin 18
About The Midrahov:
Nachlat Binyamin is a fascinating tale of art and artists. The story
of arts struggle with ignorance; a unique artistic idea that grew out
of a simple pedestrian area located in one of Tel Aviv's oldest
neighborhoods. Set against a backdrop of beautiful historic buildings
dating back to the early 1900's, Nachlat Binyamin is more than a
mere arts and crafts market, it's a whole event that occurs twice a
week in the heart of Tel Aviv
With more than 250 stalls, Nachlat Binyamin is the largest
event of its kind in Israel and possibly in the world.
Unlike other markets, all of the art exhibited
and sold at Nachlat Binyamin is handmade.
Each individual artist produces his or her own work
and then sells it at Nachlat Binyamin.
Paints, paper and plastic, glass, wood, clay and metals
are sculpted, modeled, dyied and tied, drawn and forged into a
kaleidoscope of colors, exquisite jewelry, useful objects
and decorative art that make up Nachlat Binyamin.
The Story of Nachlat Binyamin:
Until 1987, Nachlat Binyamin was just another dusty street
close to the Carmel market, a thoroughfare for market
shoppers laden with baskets of fruit and vegetables.
The passing crowds knew vegetables not art.
In 1987 the area was earmarked to become a pedestrian area.
But the architectural potential of the place
turned the broad walk into an animated festival, creating
a display window for art in the daily environment.
In the first year artists gathered themselves, and by the third year,
they were queuing up to join the festival.
With no funds or financial support, street performers
gave their first performances for free, out of love and
belief in the spirit of Nachlat Binyamin.
And so it remained. In addition to the hundreds of stalls lining the
midrachov street performers provide plenty of sideline entertainment.
Musicians, mime artists, puppeteers
and magicians take to the streets every week
adding another dimension to the festival spirit.